The Corps maintains a robust community involvement program at the Maywood Site. Given the commercial nature, proximity to residences, and land use pressures at most site vicinity properties, the Corps has established close working relationships with property owners and their employees and consultants, property tenants, utilities, neighbors, local officials, and the greater community. In addition to this website, the Corps also maintains a storefront Public Information Center in Maywood's central business district.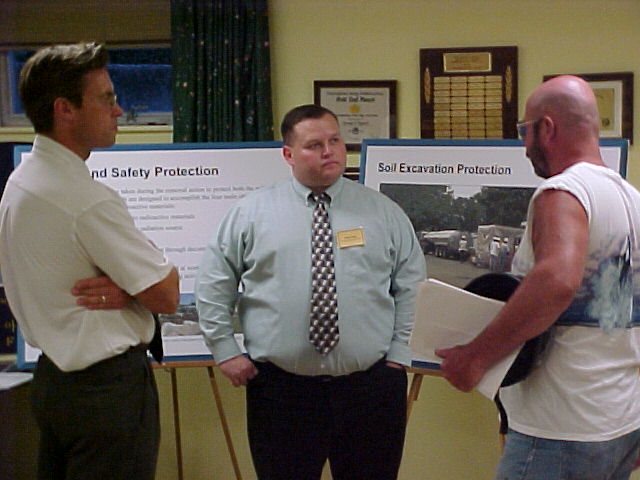 A community member (right) and USACE representatives at a public information session in Maywood.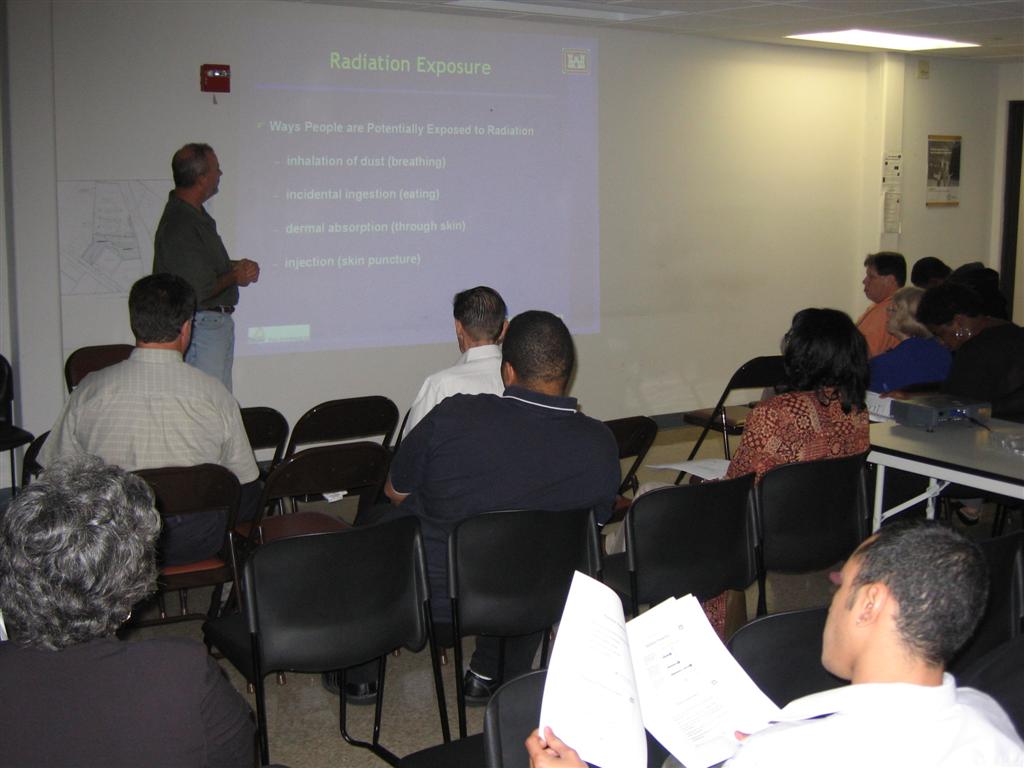 A briefing to employees at a commercial vicinity property.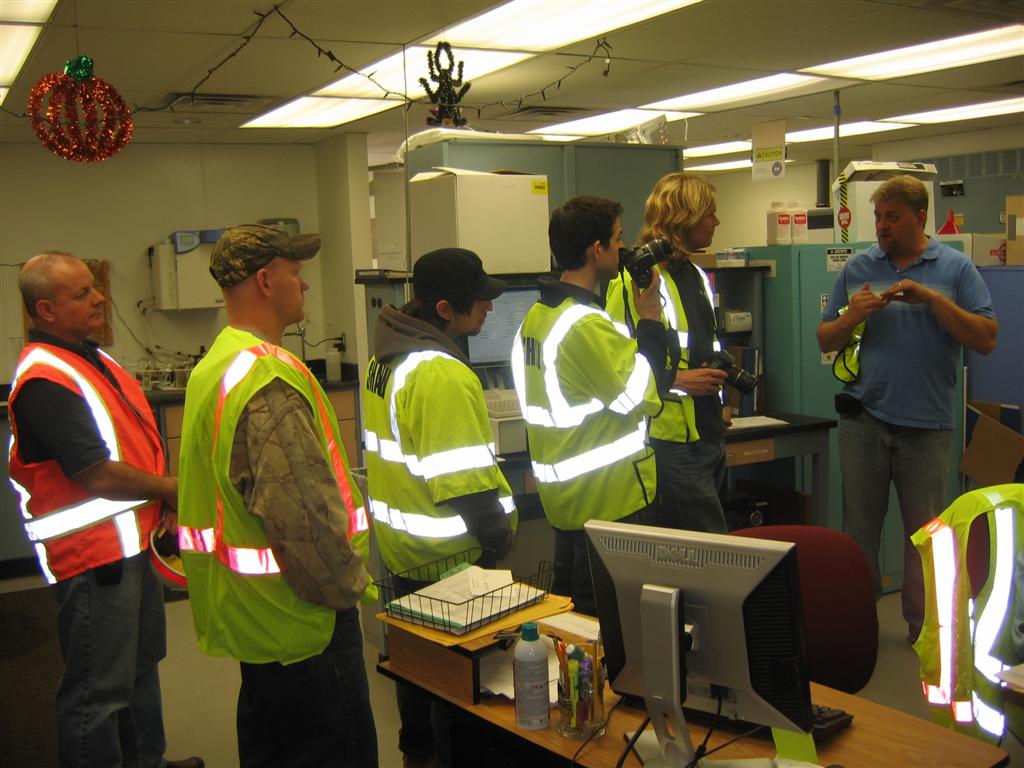 Environmental science students from a nearby college tour the FUSRAP Maywood onsite lab.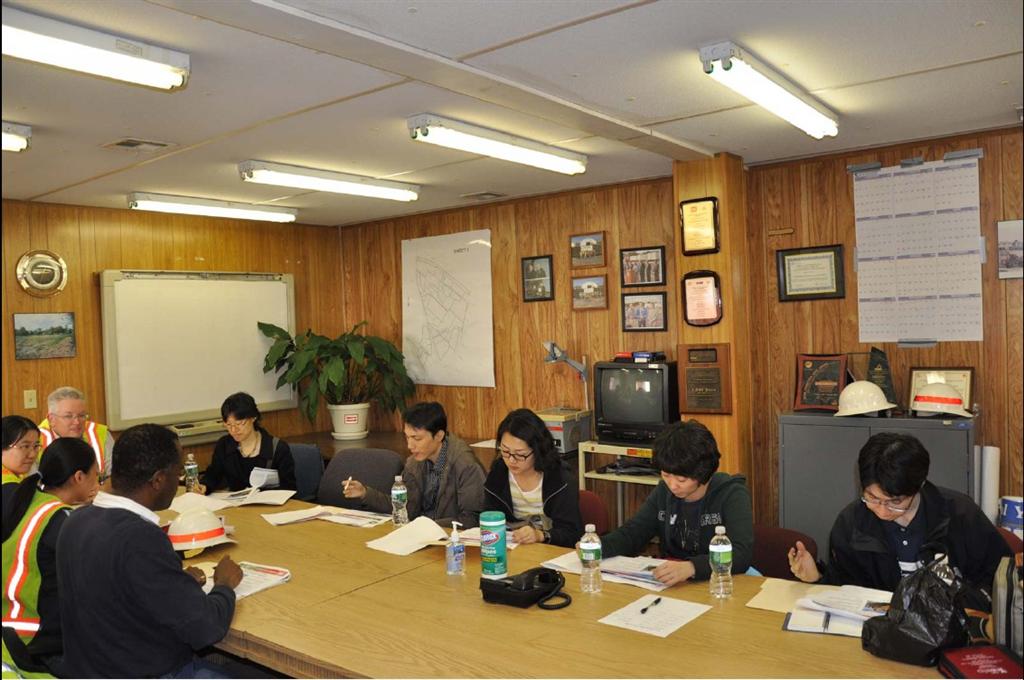 Visitors from a Korean university receive an onsite briefing.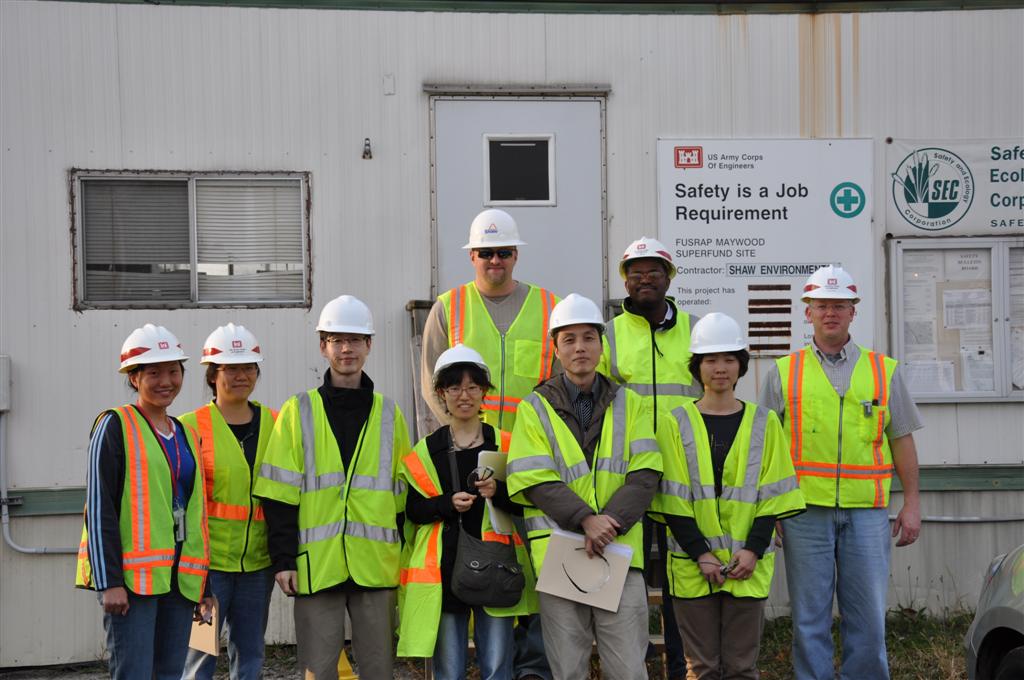 Student visitors from Korea and project representatives during a recent site visit.
To learn more about Public Involvement, click here.
Back to the top of the page.
Together, the Army Corps and its prime remediation contractor Shaw E&I have compiled an outstanding safety record at the Maywood Site. The project passed one million hours worked without a lost time accident (LTA) in December 2008, out of more than 1.4 million hours worked since project startup. This achievement was recognized with the New York District's Commander's Certificate of Appreciation and Shaw E&I's President's Award, both awarded to the project in February 2009. As of April 2010, the project has compiled over 1.25 million hours without an LTA, which equals more than 2,400 consecutive safe work days.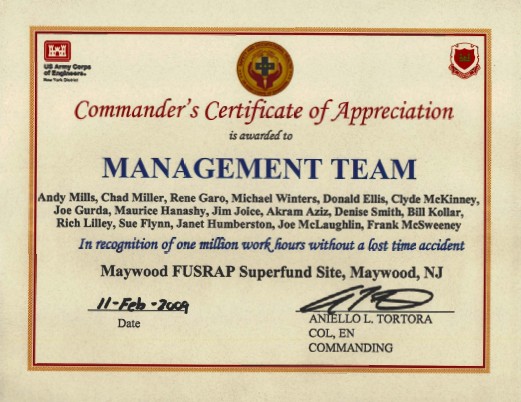 USACE New York District Commander's Certificate of Appreciation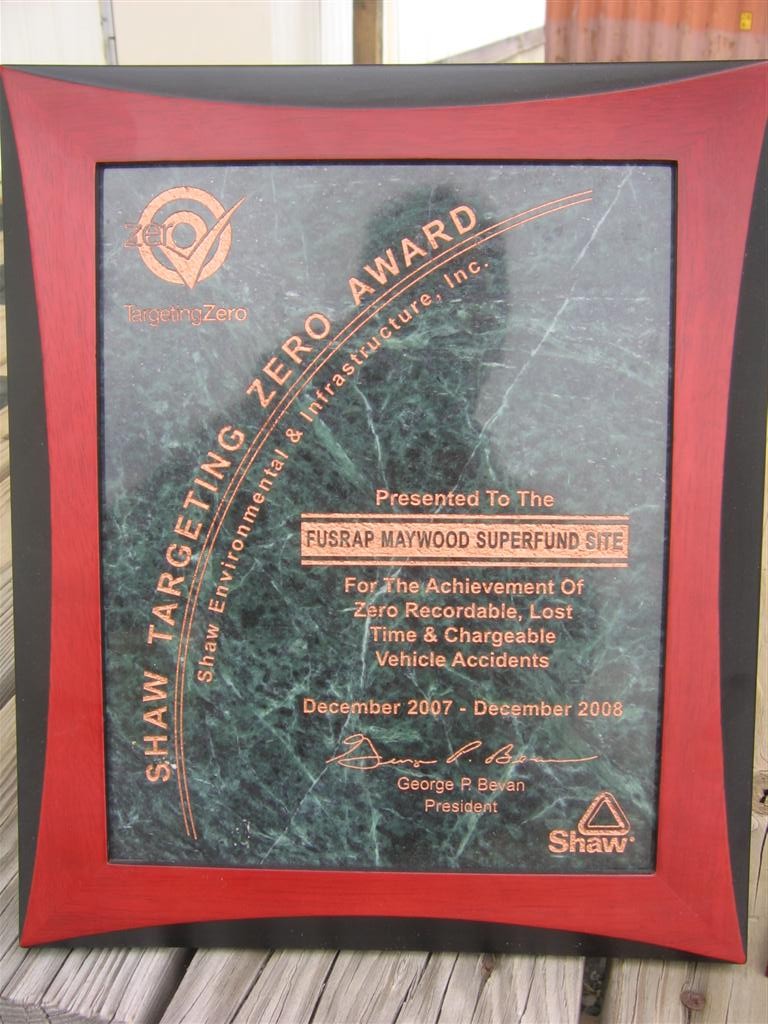 Shaw's Targeting Zero Award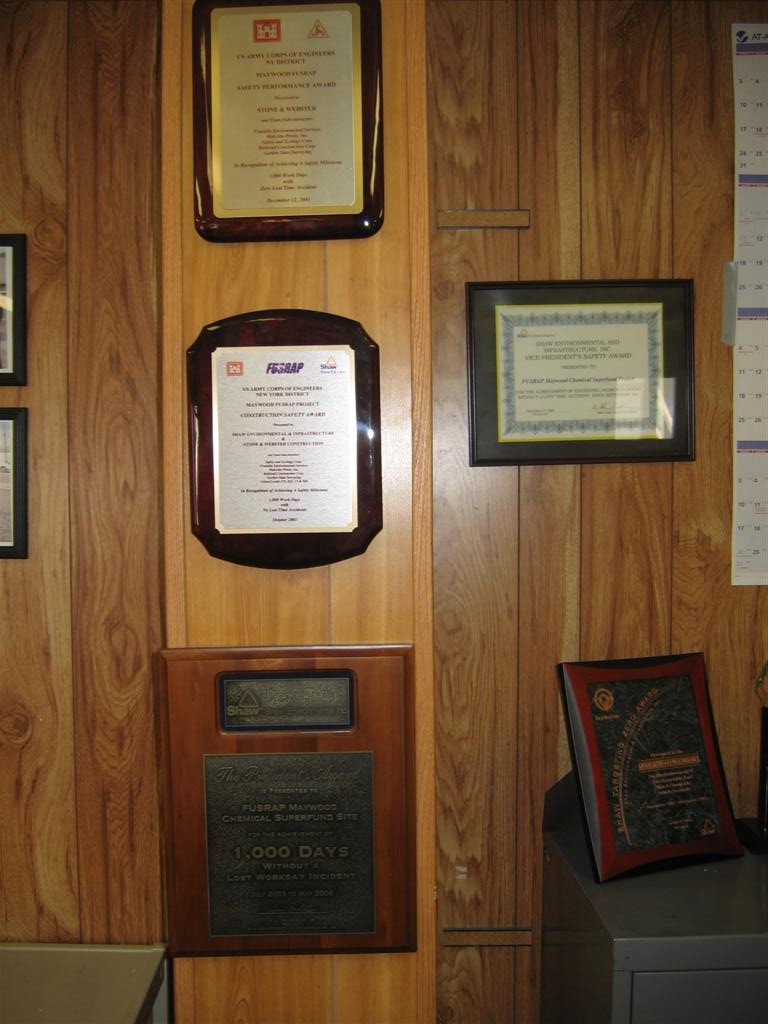 Various other safety awards earned by the FUSRAP Maywood Project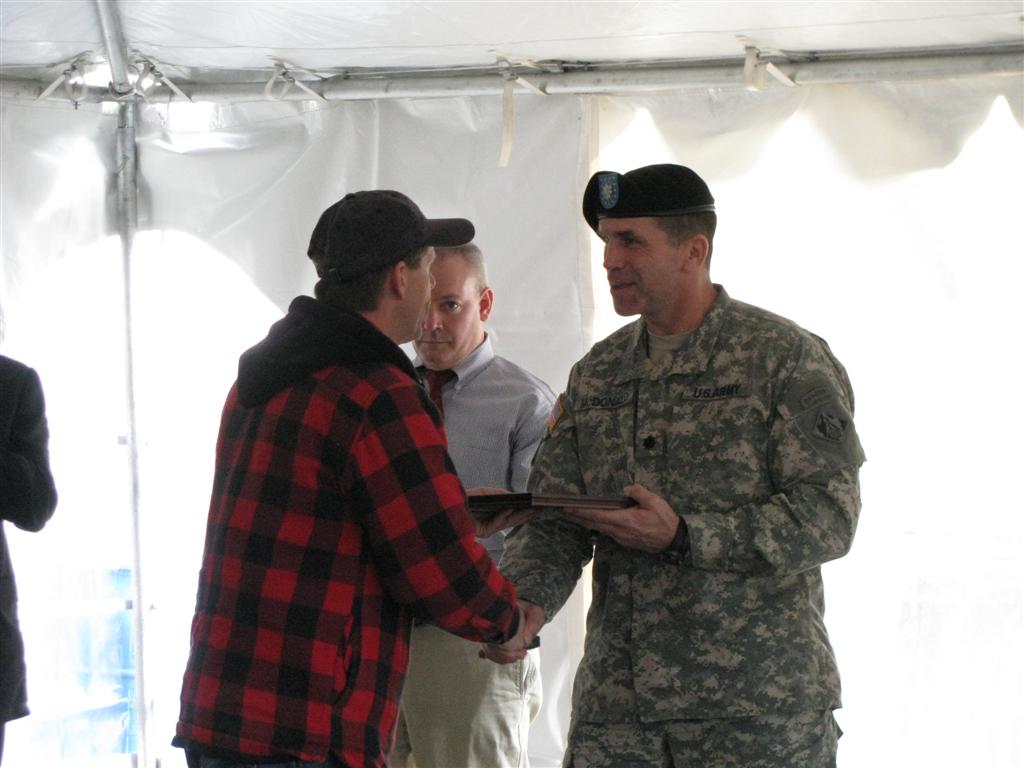 Lt. Col. Kenneth McDonald, at the time Deputy Commander and Deputy District Engineer for the Corps' New York District, congratulates a FUSRAP Maywood Site employee at a 2009 onsite award presentation.
Back to the top of the page.
Groundwater Remedial Investigations involve an in-depth field program to assess how and to what degree waste from the Maywood Chemical Company site is affecting groundwater.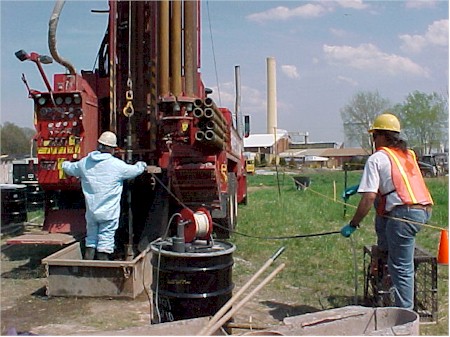 A groundwater well installation monitoring.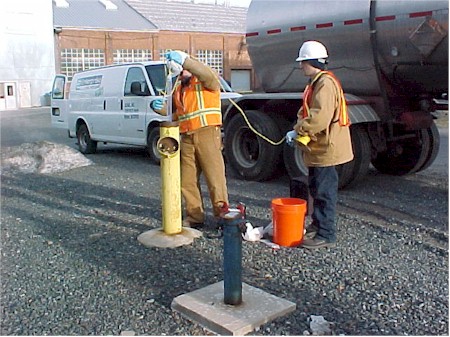 Field crew collecting a groundwater sample.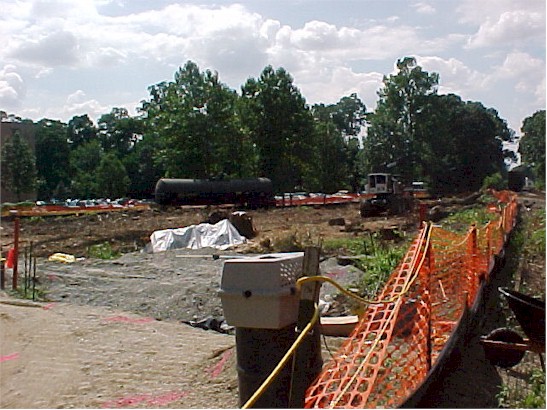 An air monitoring station(foreground) setup at a remedial excavation site perimeter.
To learn more about groundwater investigations click here.
Back to the top of the page.
Site characterization combines radiological, geotechnical, and environmental studies to accurately define the nature and extent of contamination on a property.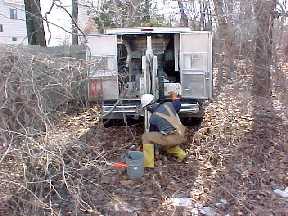 A worker sets the Geoprobe boring mechanism.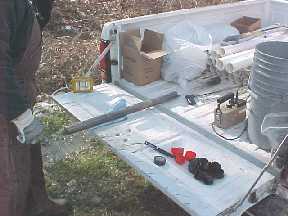 The probe sleeve contains the soil sample.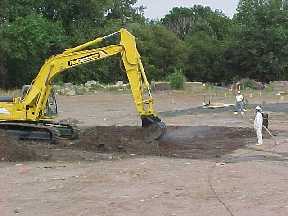 Engineering test pits provide information on an entire cross section of subsurface soil conditions.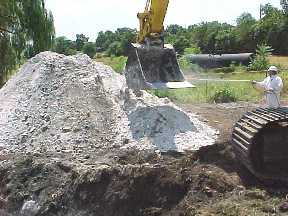 Excavated material from a test pit at a former retention pond.
To learn more about Site Characterization click here.
Back to the top of the page.
The Corps completed remediation of the 22 remaining residential vicinity properties shortly after assuming responsibility for the FUSRAP Maywood Site.
Home in Lodi during soil removal.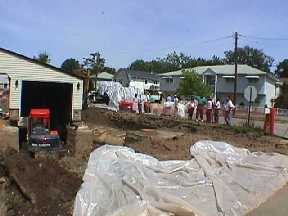 Home in Lodi during soil removal.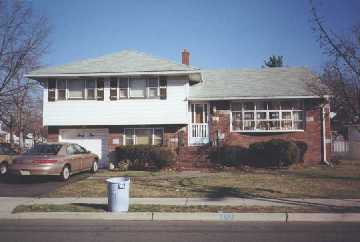 Home in Lodi after cleanup and restoration.
To learn more about Residential Cleanups, click here.
Back to the top of the page.
Scenes of recent excavations at commercial site properties.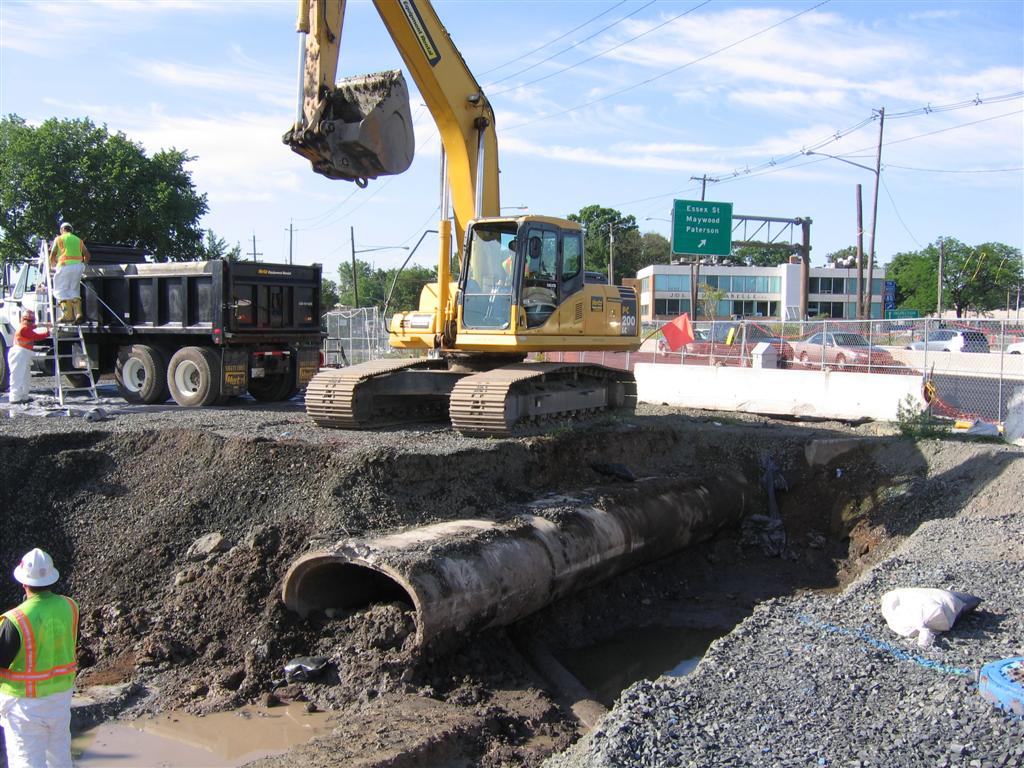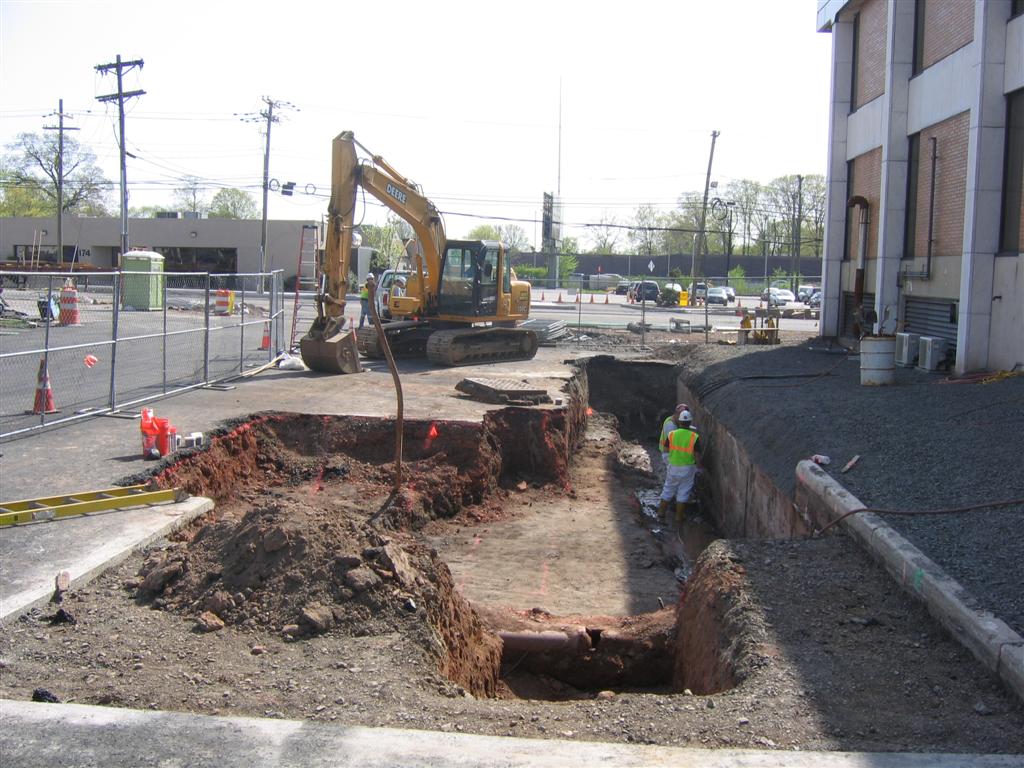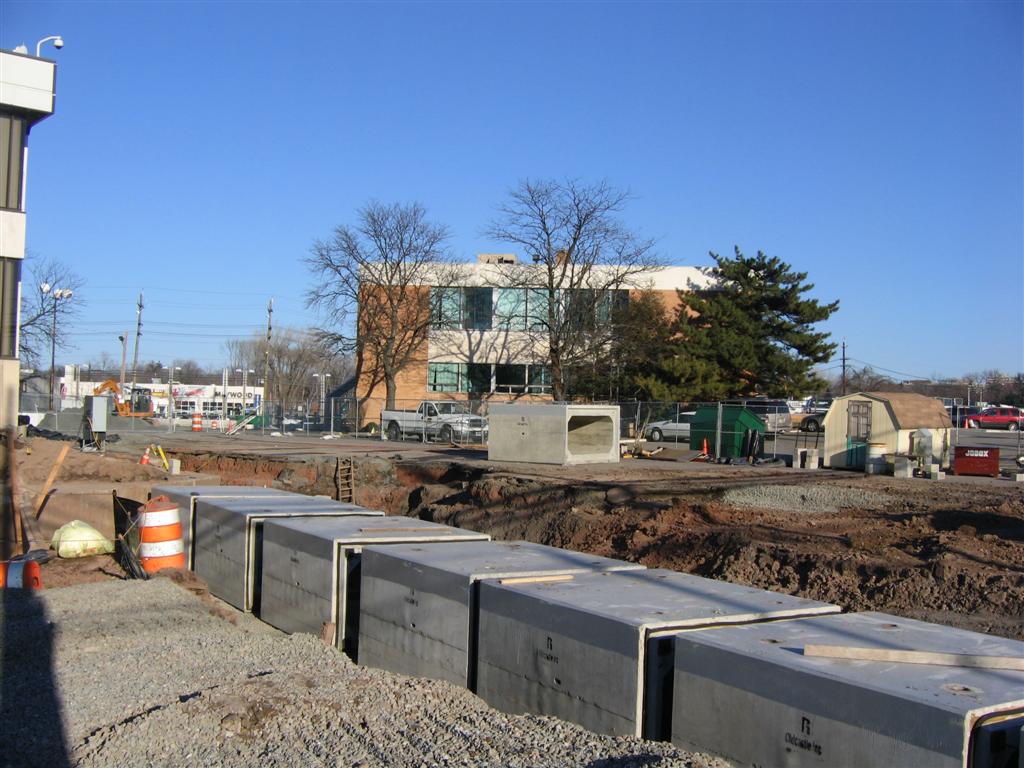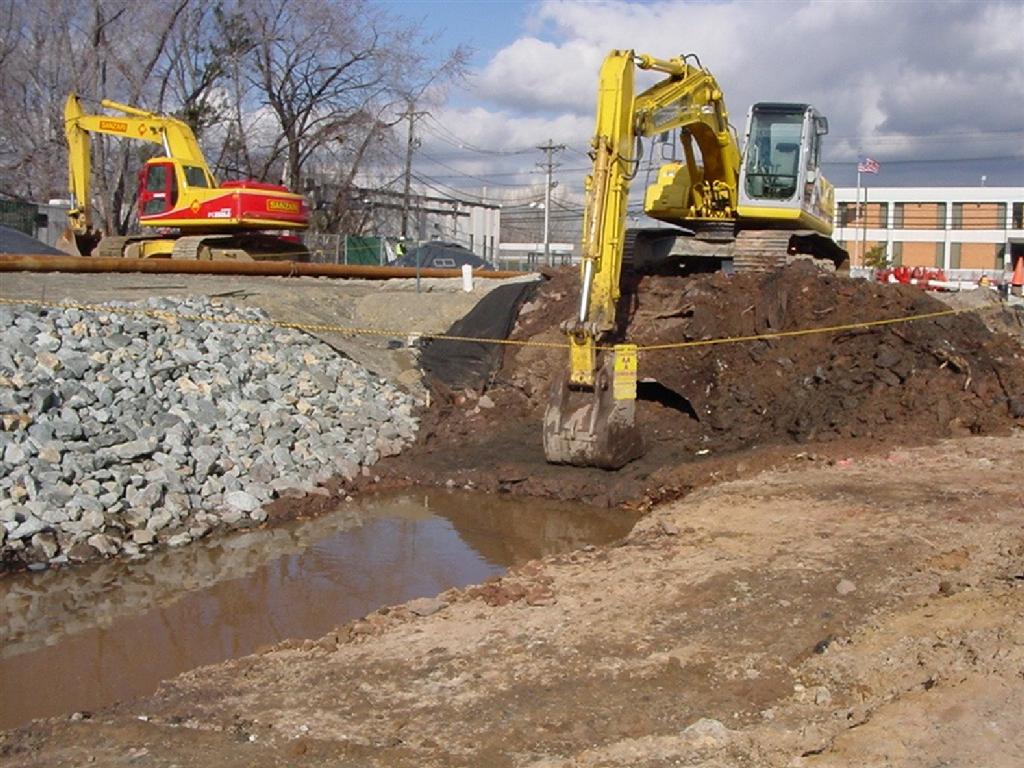 An April 2010 view of remediation at Burial Pit 3 on the 100 West Hunter Avenue, Maywood vicinity property. Cleanup at all three historic waste burial pits at this property was well underway as of April 2010.
A radiation protection technician performing a surface walkover at a remedial excavation site.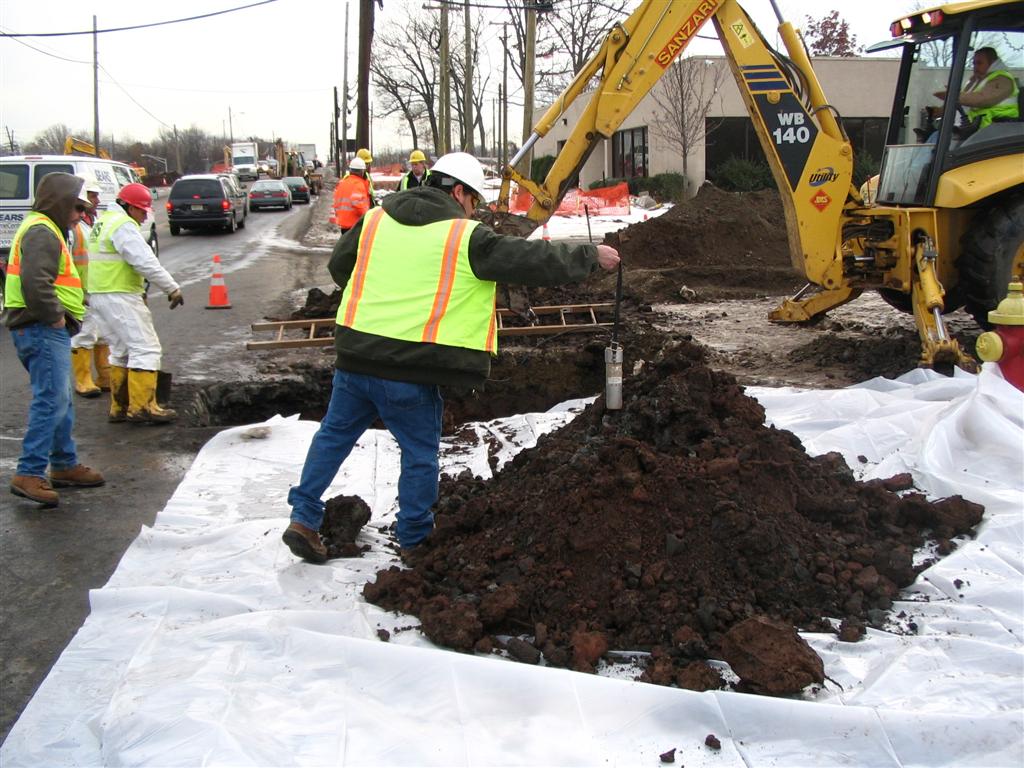 A radiation protection technician surveying a spoils pile for a utility pole relocation adjacent to a commercial site property.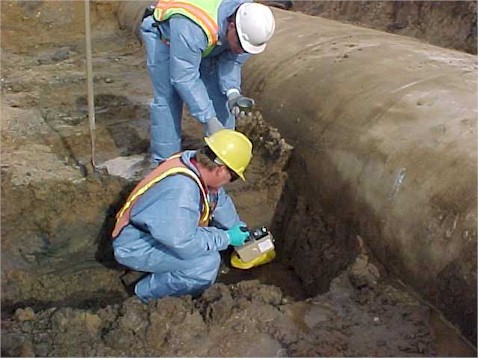 Technicians taking radiological measurements beneath historic Lodi Brook culvert.
Back to the top of the page.
As of April 2010, the FUSRAP Maywood Project has successfully managed nearly 22 million gallons of construction water. Water is either pumped directly from remedial excavations or into tank truck for processing through two onsite water treatment systems. The water is treated to comply with standards for radiological constituents under the project's permit with the local utilities authority, and then discharged into the public sanitary sewer system.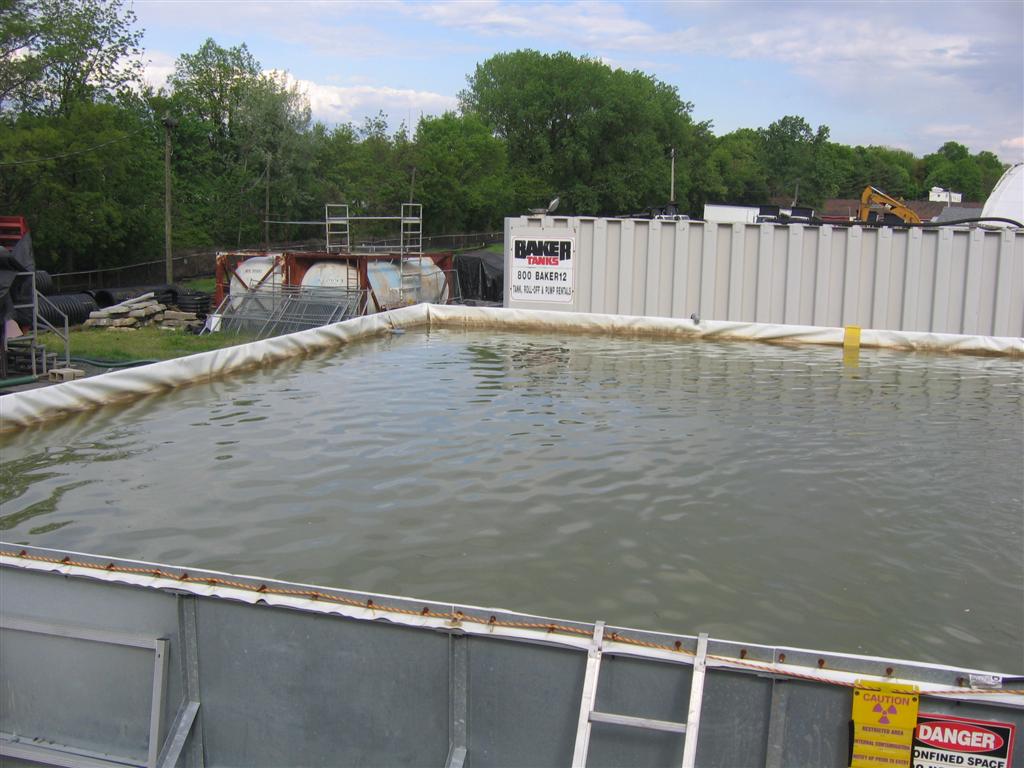 The modular settling tank at one of the onsite wastewater treatment units.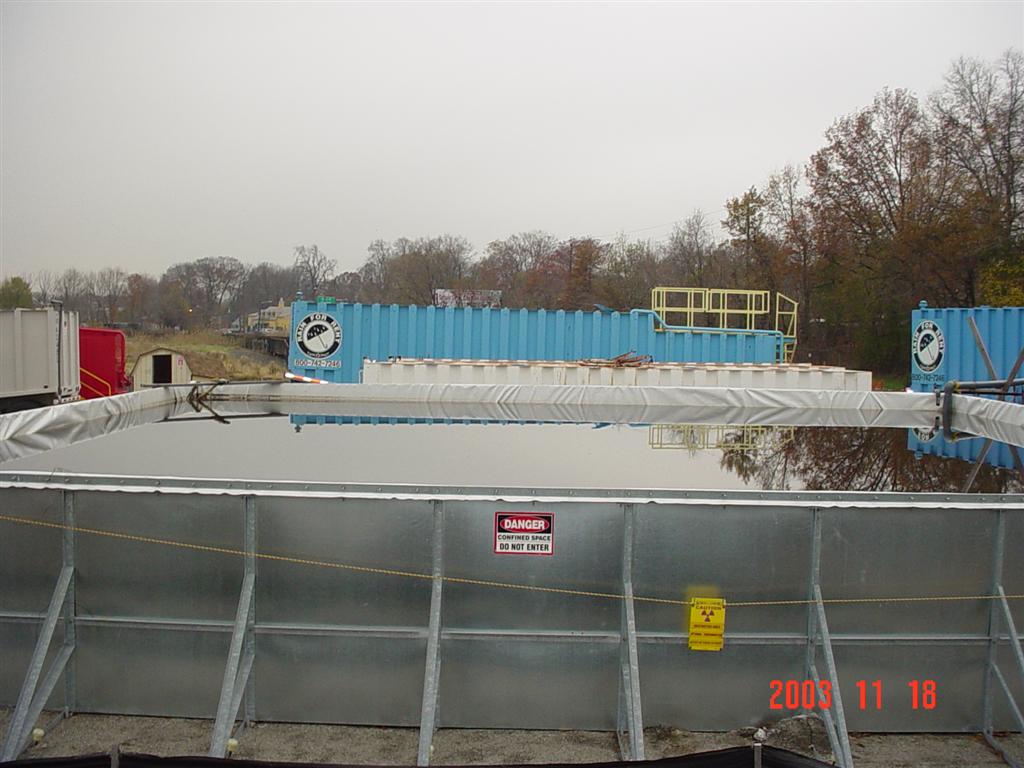 Another view of the settling tank. Wastewater is initially stored in the blue tanks in the background as it arrives from the excavation sites.
Back to the top of the page.
An onsite New Jersey DEP-certified and USACE-validated radiochemical laboratory is located at the MISS. The lab allows for more control of radioanalytical turnaround time by providing real time data, which in turn saves valuable remedial construction time and costs.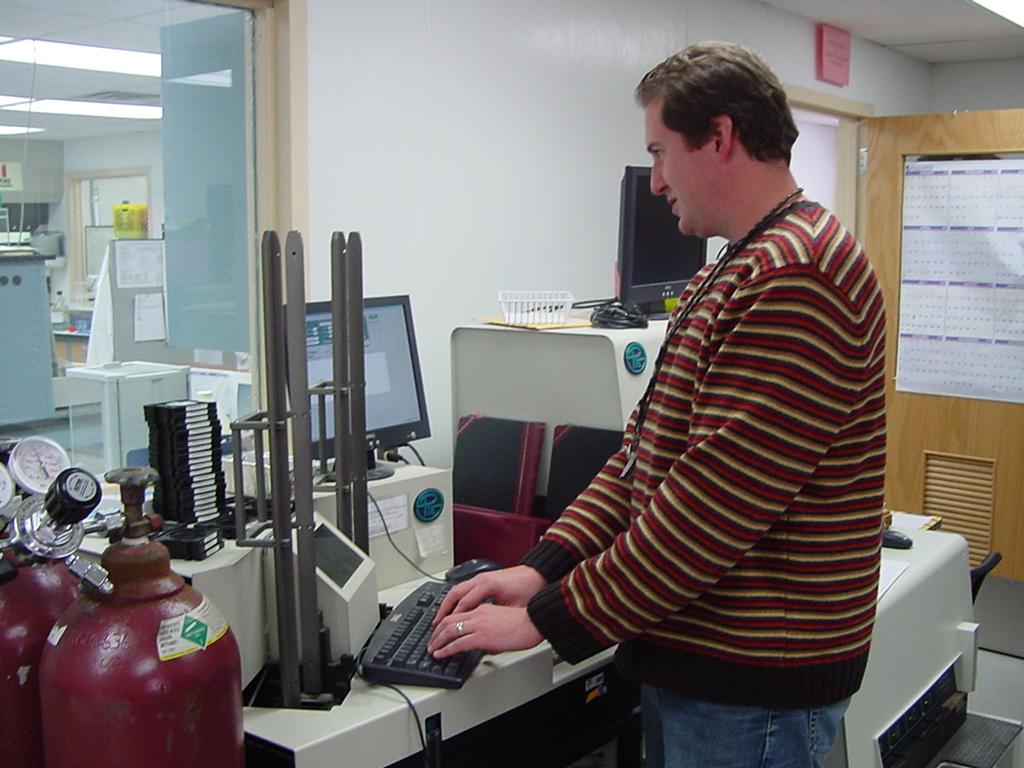 A lab technician loading air filter samples in Gas Proportional Instrument to measure gross alpha activity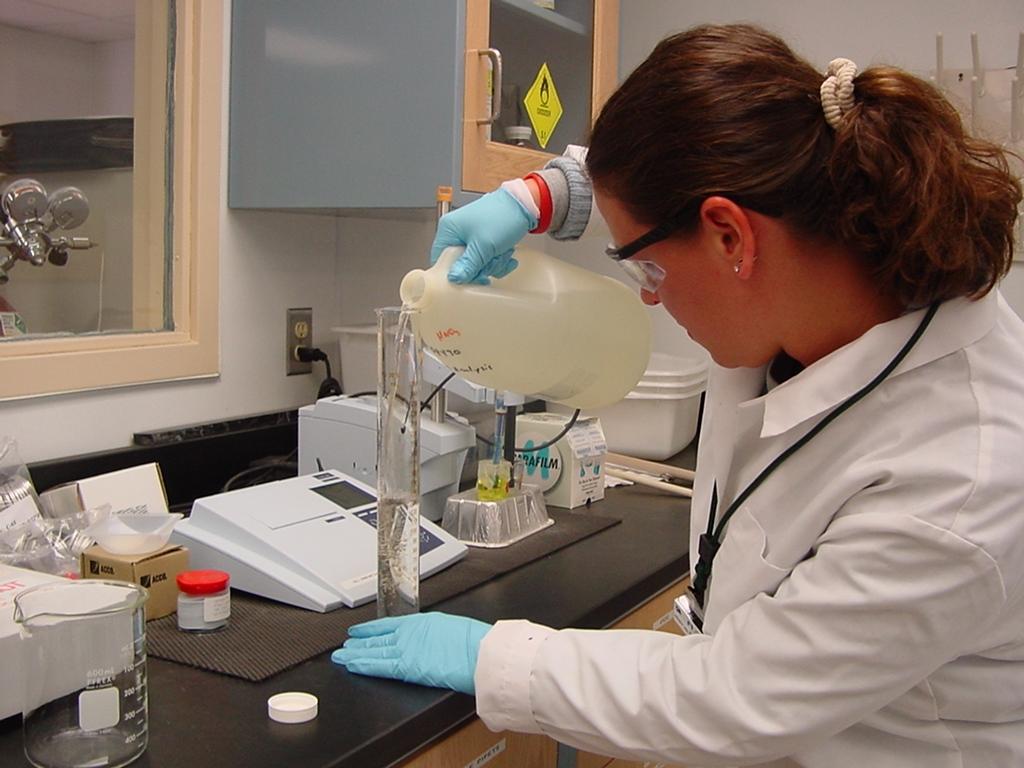 A technician transferring waste water to prepare for wet chemical analysis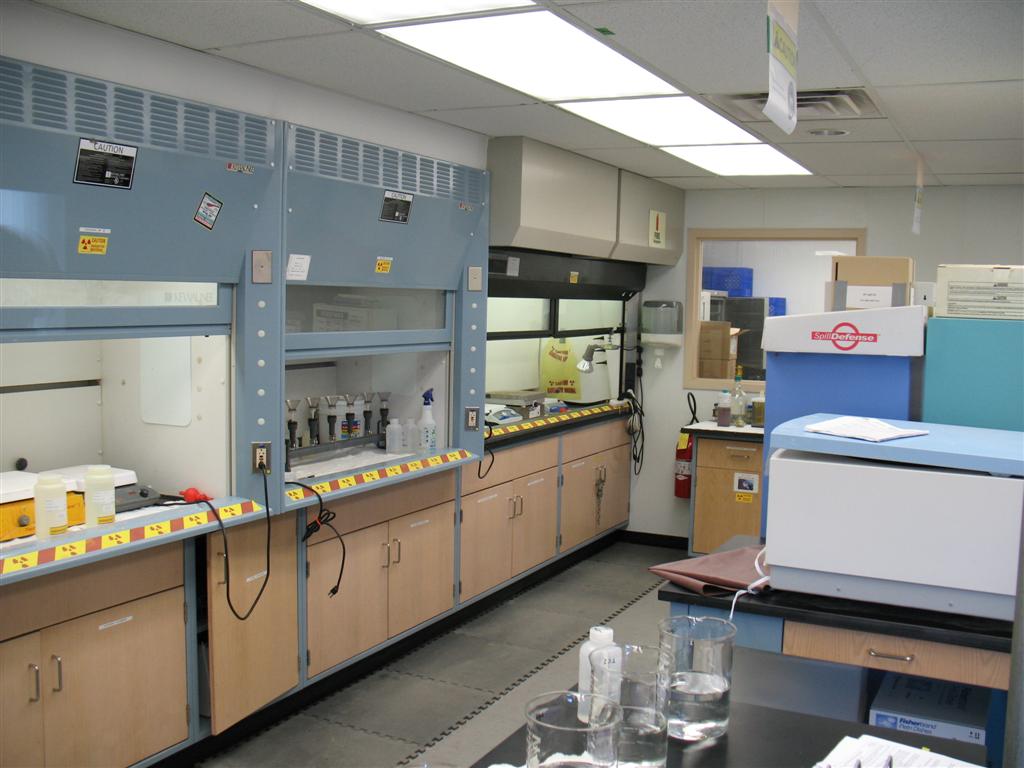 Lab hoods used in the wet chemical analysis to control hazardous vapors generated during wet chemical analysis
Back to the top of the page.
Following remediation, properties are restored to their original conditions. The photos below show various restoration activities in progress.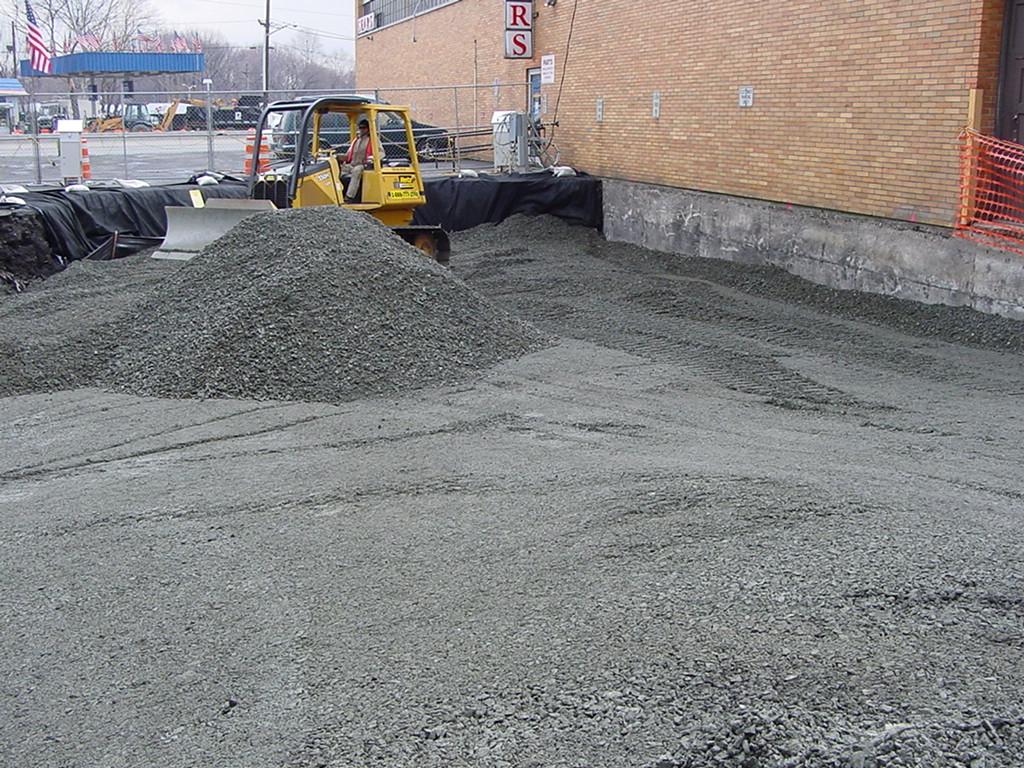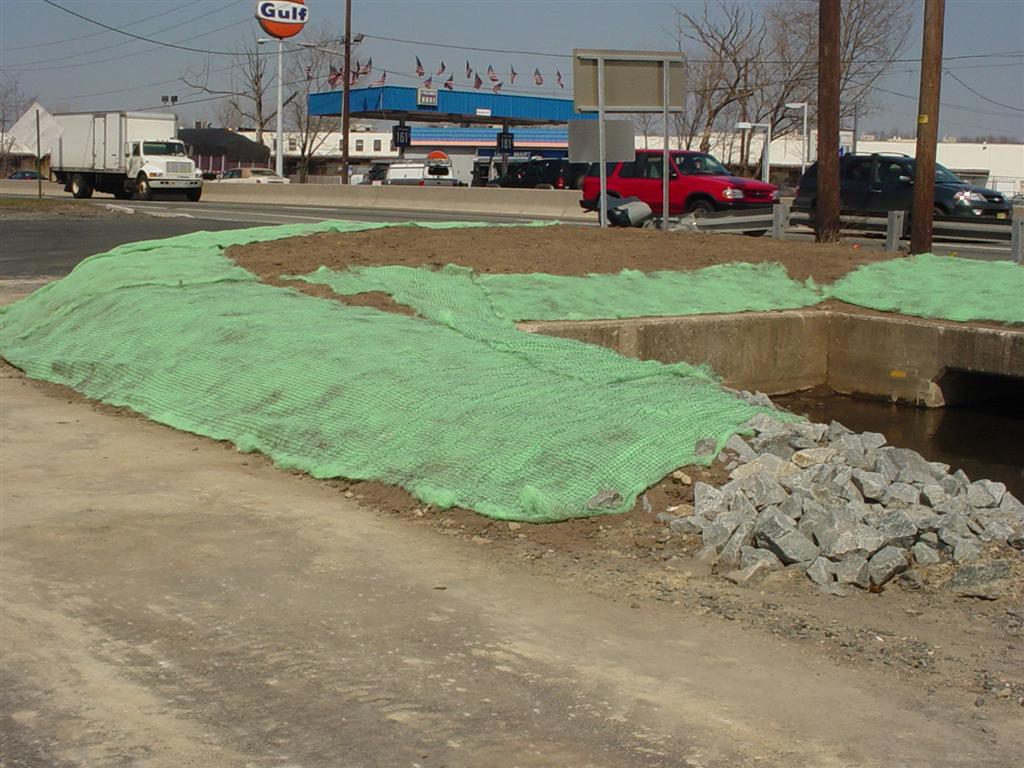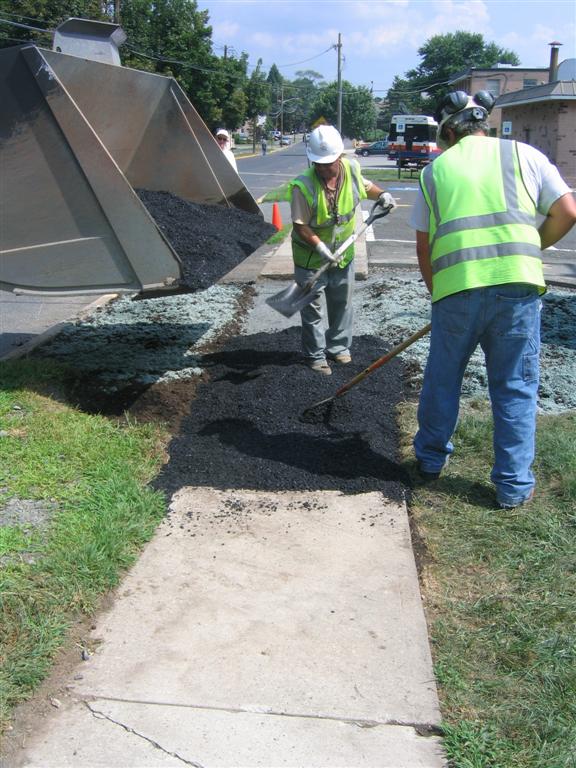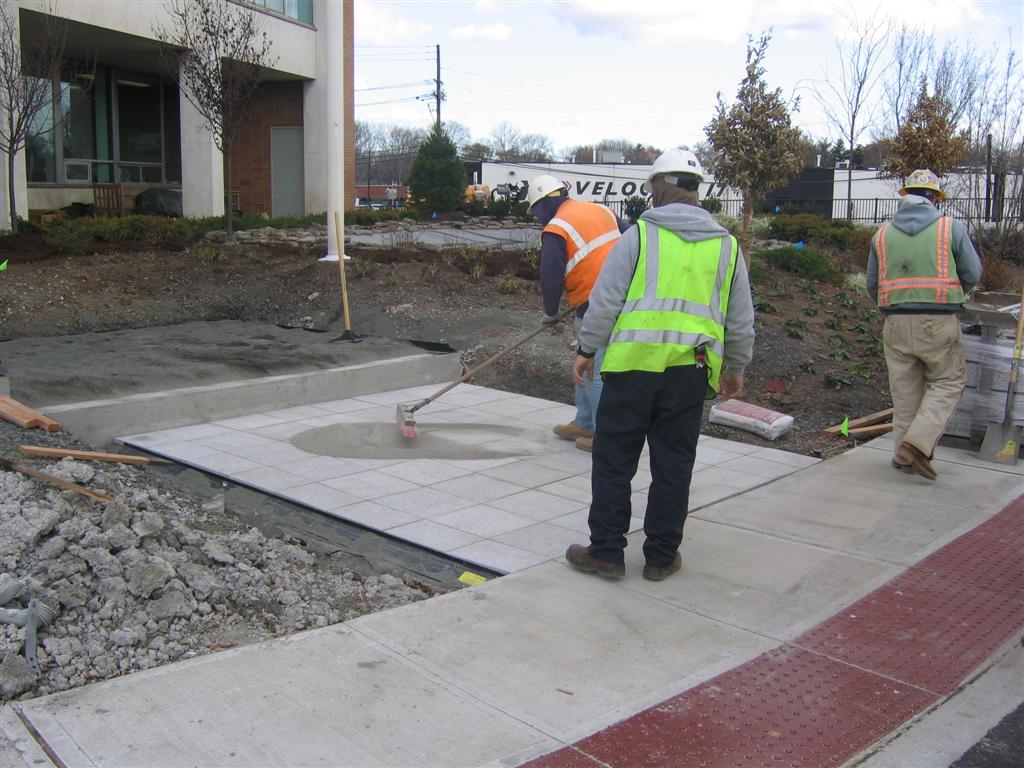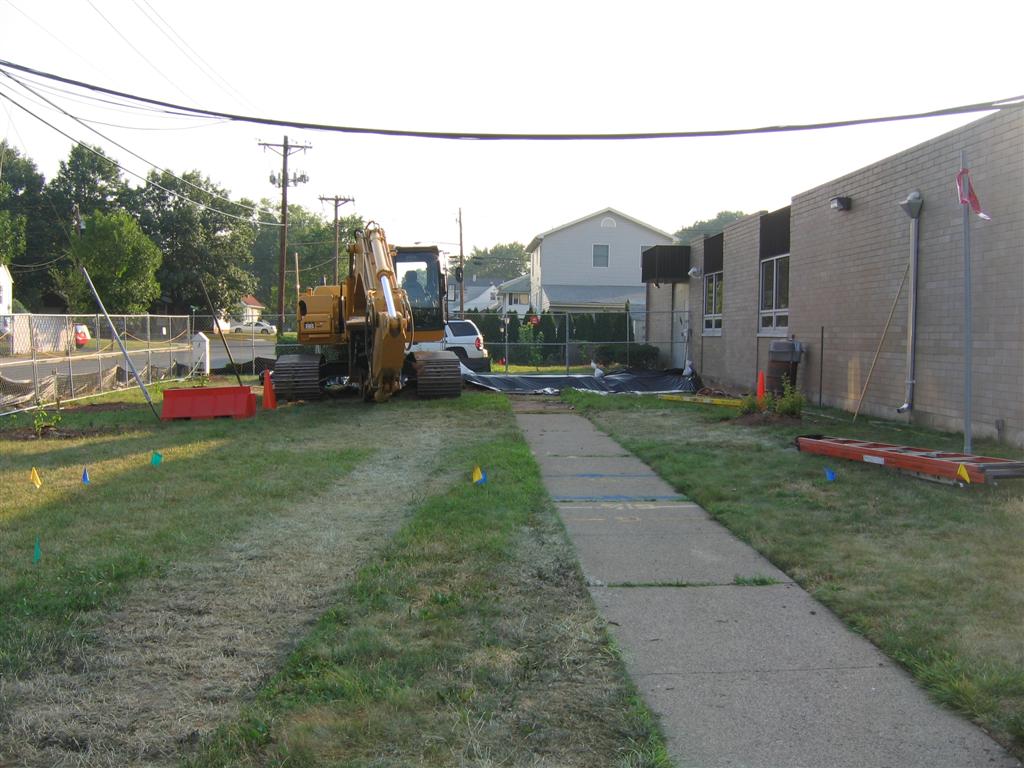 Site mobilization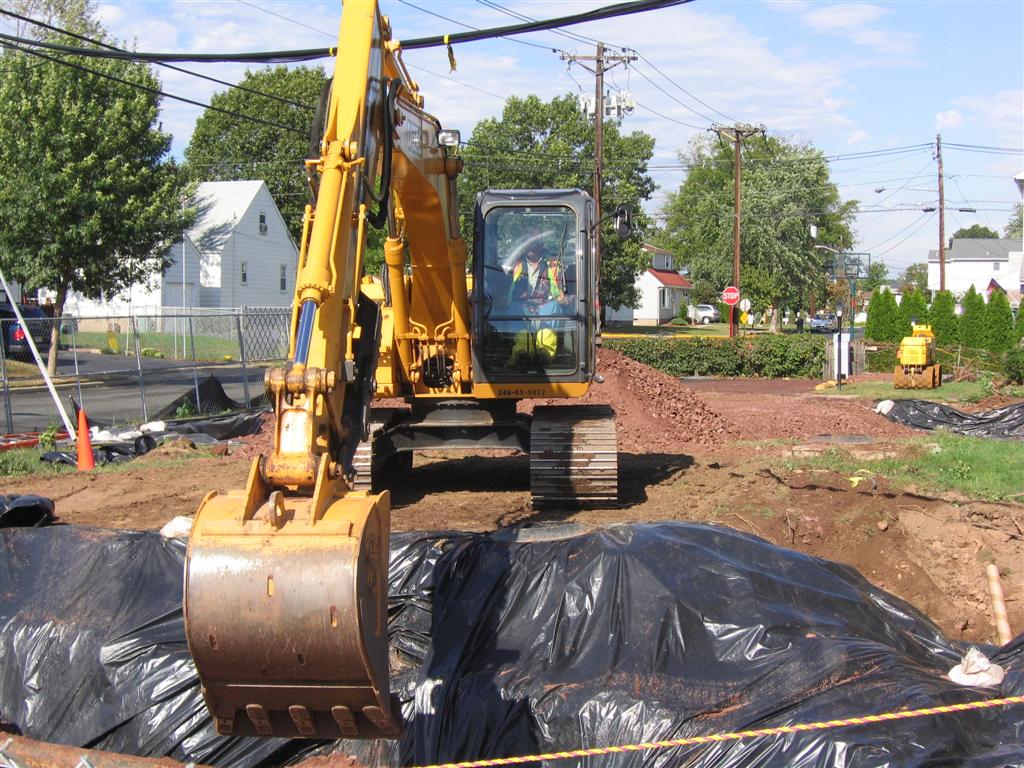 Site remediation
Site restoration
Back to the top of the page.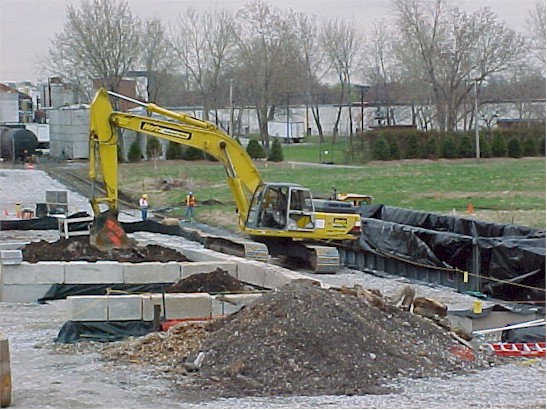 Soil generated from remedial excavations is loaded onto rail cars at the MISS and shipped to an authorized offsite disposal facility.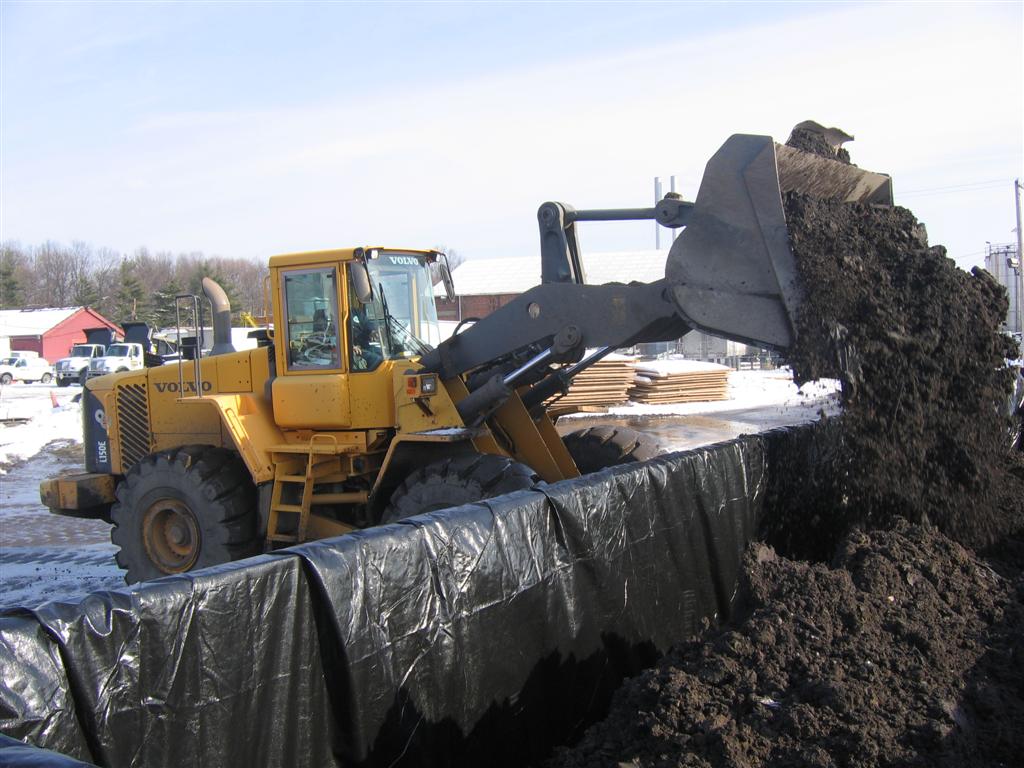 Soil being loaded into a rail car fitted with a sealable protective liner.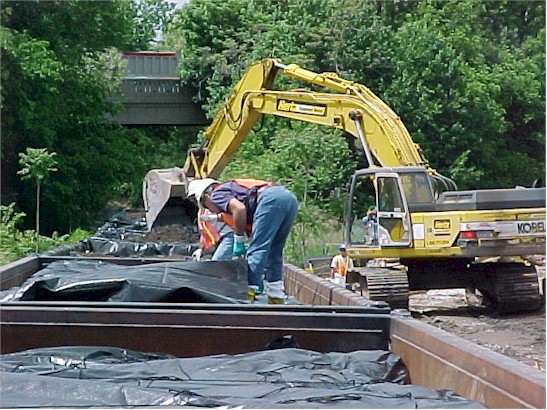 Workers securing rail car liner.
Workers securing another load for shipment. Each rail car holds approximately 65 cubic yards (about 107 tons) of soil. As of April 2010, the Corps has safely excavated and shipped over 275,000 cubic yards of contaminated soil to disposal facilities permitted to accept such materials.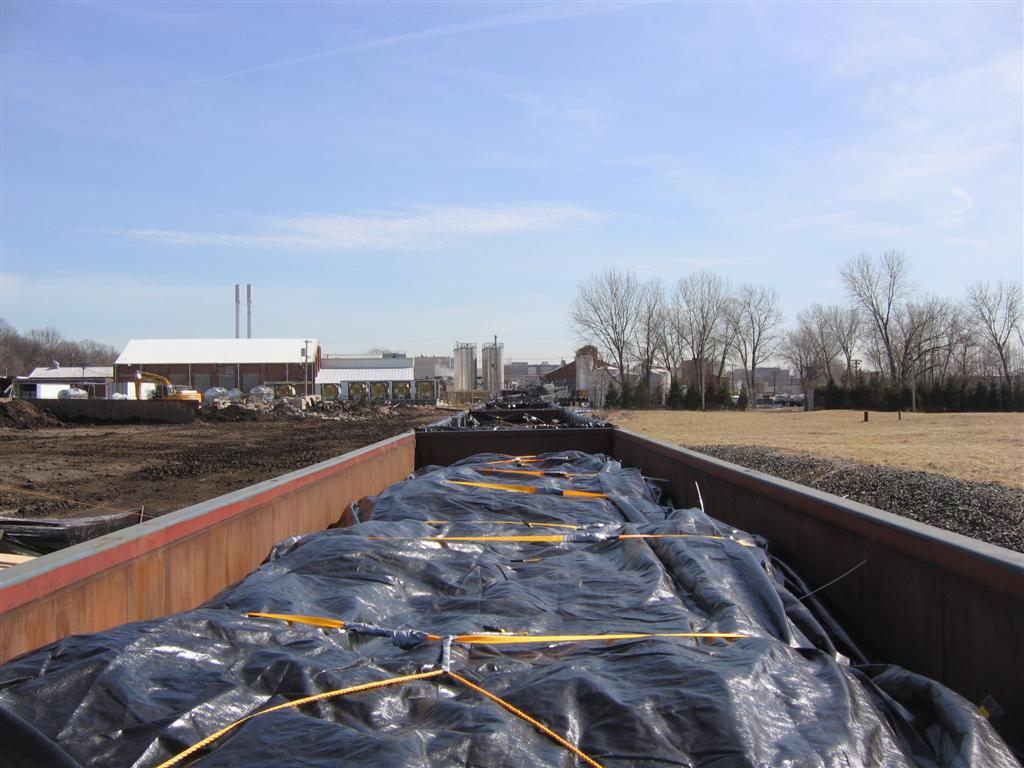 A secured rail car shipment ready to leave the MISS.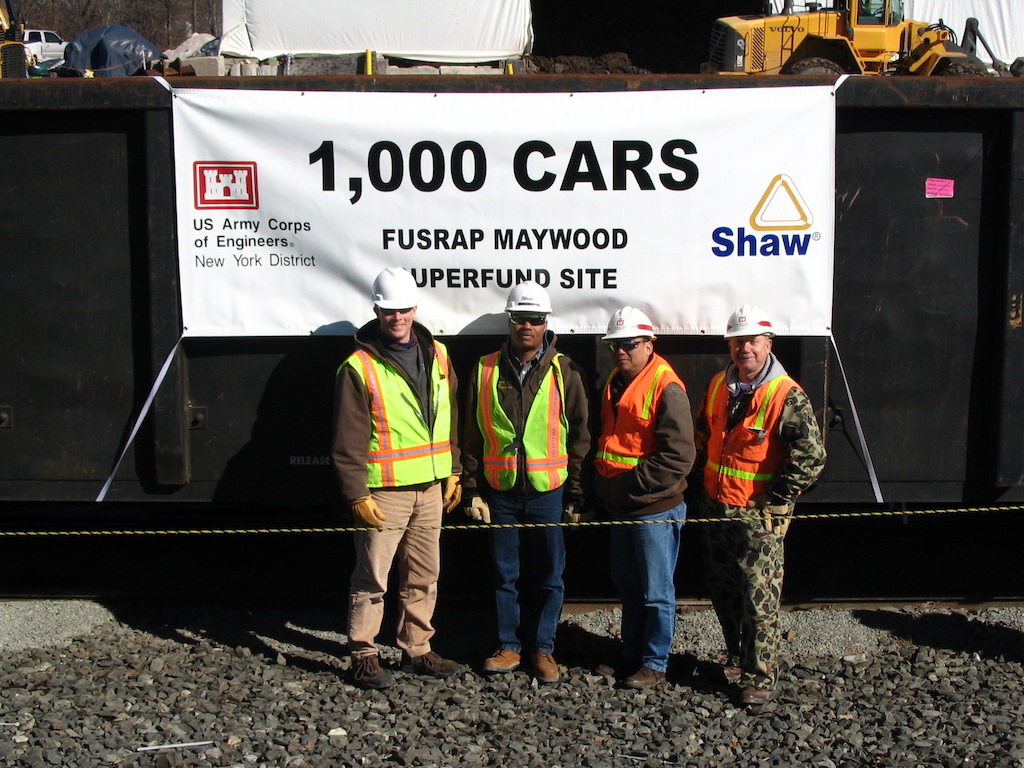 Army Corps and contractor personnel mark a soil shipment milestone at the FUSRAP Maywood Site.
Return to Project Information
Back to the top of the page.